Series RA
In a number of cases it is desirable to bring cool air from outside the front of a cabinet and then push the air upwards across the p.c. cards mounted in the card cage directly above.  This right angle movement of cooling air is especially useful when a p.c. card cage is isolated from the flow of cabinet cooling air.
The Series RA Fan-Pak draws air through the front grill utilizing one, two or three 100cfm, long life, quiet fans.  Options which will add greatly to the application and sue of a separate cooling package are available.
The RA Fan-Pak is also available as an integral part of standard (or special) Unitrack card cages.  By purchasing both cage and cooling package as a unit, assembly time, stocking costs, etc., may be reduced.  Standard package includes switch, fuse and line cord.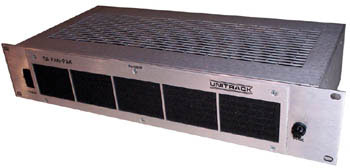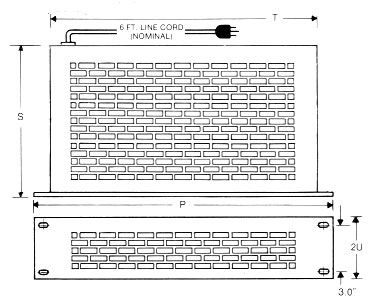 SERIES RA FAN-PAK
Replaceable fuse, 115 VAC fans and 6′ line cord are standard.  Other fans are available for 12, 24, 48 VCD or 220 VAC.  Series RA Fan-Pak is available with three fans only.

OPTIONS FOR SERIES F and SERIES RA FAN-PAK
Available on all Fan-Paks
Pilot Light/s: Shows that fans are ON.
Power Switch: For front panel control of Power.
Fan Alarm® Circuit: LED indicators show fans operating. Switch contacts are also available for remote alarm.
Silk Screened Legends: consult factory.
Terminal Block Connection may be desired instead of 6′ line cord, at no extra charge.  If so, when ordering, signify on Part No.
Filter: consult factory.